Attorney Carl Collins III Convicted For Tax Fraud: Client Next Steps
5 min read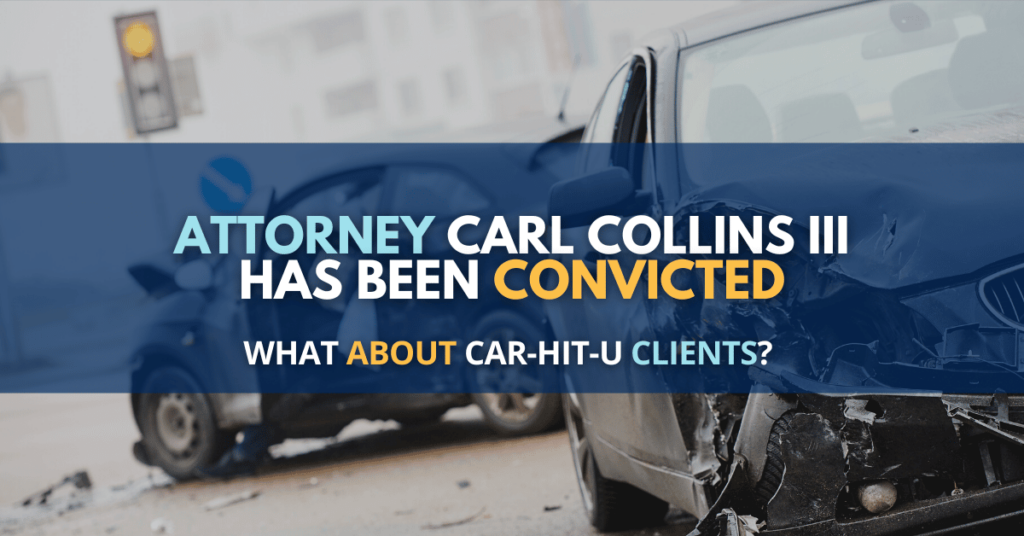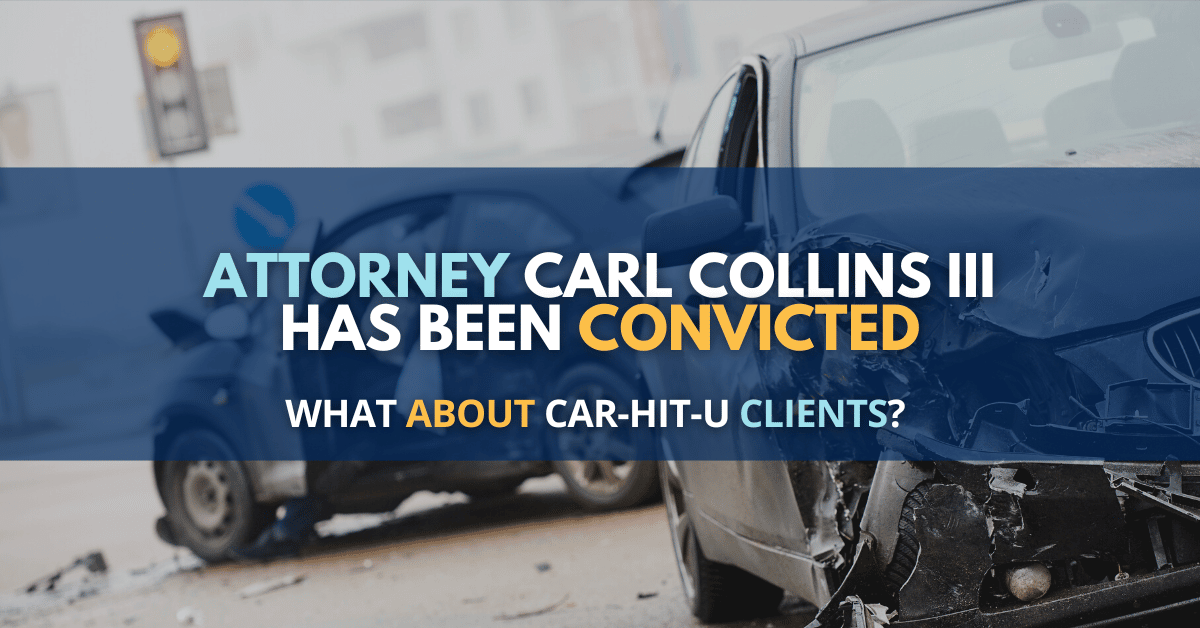 Federal tax fraud conviction against attorney Carl Collins III and the 855-Car-Hit-U law firm undermines clients' faith, jeopardizing their cases, and gives a black eye to the entire profession
Attorney Carl Collins III, the soon-to-be former personal injury lawyer from Metro Detroit, has been convicted of tax fraud willfully filing false tax returns for failing to report and pay taxes on more than $2.6 million in income.
For the lawyer whose marketing slogan "855-Car-Hit-U" appears on billboards throughout the Detroit area, these criminal tax fraud convictions by a federal jury in Detroit are a humiliating loss for attorney Carl Collins III, for his law firm, and for likely hundreds of completely innocent and injured clients of the law firm who put their trust in him to properly protect and represent them.
IMPORTANT: You are under no obligation to keep your lawyer if you have lost faith in his or her judgment, abilities or ethics. You can transition to a new lawyer whom you trust. It is easy to do and Michigan Auto Law has a Proven Lawyer Transition Plan.
The federal jury in Detroit convicted attorney Carl Collins III of tax fraud as he did not report on his taxes more than $2.6 million in income he received from three businesses that he owned, according to the U.S. Department of Justice's press release. To conceal the funds from his tax preparers and the IRS, Collins deposited the unreported income in his lawyer's trust fund account, which all Michigan lawyers are required to have to hold clients' money in trust.
The details of attroney Carl Collins III's tax fraud conviction by the federal jury are described by the Justice Department's press release as follows:
"Collins was convicted of filing false personal tax returns for 2012, 2015, and 2018, filing a false 2012 amended return, and filing a false 2015 corporate return for Alpha Living. The evidence established that Collins did not report approximately $600,000 in income he earned in 2012. He deposited most of these funds into an undisclosed IOLTA account and concealed the deposits from his tax preparer. On his 2015 personal return, Collins also did not report over $800,000 in income. With respect to his false 2018 personal tax return, Collins omitted approximately $300,000 in income that he deposited into another undisclosed IOLTA account. In all, the evidence showed that Collins did not report over $2.6 million in income."
I don't feel bad for attorney Carl Collins III. I do feel bad for his clients.
What he has been convicted of doing is criminal. It also gives all ethical personal injury lawyers in Michigan a black eye.
His clients did nothing wrong – other than hire the wrong lawyer. The clients will almost certainly now pay a steep price as the settlement values of their car accident cases with this law firm take a significant hit, if only by association..
Based on the seriousness of the criminal charges that Collins has been convicted of, his clients have a lawyer who is now facing serious prison time. The DOJ's press release stated that he "faces a maximum penalty of three years in prison for each count of filing a false tax return."
If you are one of the clients of attorney Carl Collins III and 855-Car-Hit-U who is affected by his federal tax fraud criminal conviction, then you are probably wondering what to do next. In this article I will explain exactly what options you have as a client of attorney Carl Collins III and 855-Car-Hit-U.
What can you do if you are a client of the 855-Car-Hit-U law firm?
A lawyer cannot help you if he or she is in prison.
On the civil side of things, a law firm cannot effectively protect you if the lawyer in that law firm is disbarred, which seems inevitable considering the coming ethical investigation and disciplinary action by the Michigan Attorney Grievance Commission.
Unfortunately, it is not uncommon for lawyers who find themselves accused – or convicted – of these kinds of crimes to try to still keep your case or try to stop you from seeking a second opinion by another lawyer or law firm.
For instance, they may lie to you by saying:
You need a reason to fire them and get a new lawyer.
You can't change lawyers in the middle of a case.
You will waive your confidentiality if you get a new lawyer.
It's too difficult to transition to a new lawyer.
If they tell you any of these things, don't believe them because none of these absurd claims are legally true.
Make no mistake: You CAN fire a lawyer whom you believe can no longer properly protect you.
There is help for people who have attorney Carl Collins III and 855-Car-Hit-U as their current lawyer
If you are a client of Attorney Carl Collins III and you're not sure where to turn, the lawyers at Michigan Auto Law can help you work through your concerns.
We are here to help you.
We have the highest ethical standards, and both myself and all the lawyers who work here at Michigan Auto Law have spotless ethical records, including the AV® Preeminent™ Peer Review Rating from Martindale-Hubbell® for the highest ethical standards and professional ability.
If you would like a second opinion on your case, our entire legal practice is focused exclusively on helping people who have been seriously injured in car, truck and motorcycle accident cases. We have recovered more million-dollar verdicts and settlements for auto accident cases than any other law firm in Michigan, and we have an excellent trial record that defense lawyers and the insurance companies pay to avoid.
Finally, because so many of our clients come from referrals by other lawyers, we have a Proven Lawyer Transition Plan.
Our same-day service will give you the peace of mind and security you're looking for by matching you up with one of our experienced auto accident lawyers. Without missing a beat, we'll get your file and get the necessary documents filed to make sure your legal rights are protected. Your rights to the No-Fault benefits and pain and suffering compensation you deserve shouldn't be ignored and forgotten because of problems that others have created for themselves.
If you've been seriously injured in a car or truck or motorcycle accident and you have lost faith in the lawyer whom you thought you could put your trust in, call us for a FREE consultation.
Concerned that attorney Carl Collins III's federal tax fraud criminal convictions will affect his handling of your case? Michigan Auto Law can help
If you have questions about whether attorney Carl Collins III's federal tax fraud criminal convictions on tax charges will affect his ability to represent you and get the best possible settlement in your car accident or personal injury case, you can call us toll free anytime 24/7 at (800) 777-0028 for a free consultation with one of our experienced car accident attorneys or personal injury attorneys. We will answer your questions about how to get the best legal representation for you, your family and your case and about your legal rights to pain and suffering compensation, economic damages, auto No-Fault insurance PIP benefits, and settlements in cases like yours. There is absolutely no cost or obligation. You can also get help from an experienced injury attorney by visiting our contact page or chat feature on our website.