Law enforcement presence downtown on Inauguration Day | Updates
5 min read
Demonstrators who marched to the Capitol have dispersed. Sacramento Police say some streets downtown are still closed.
SACRAMENTO, Calif. — ABC10 is following the latest at the California State Capitol Building as the potential for protests remains high on President-elect Joe Biden's Inauguration Day. 
This blog will be updated throughout the day with the latest news in the Sacramento region. 
Click HERE to watch ABC News' live coverage of the Biden Presidential Inauguration in Washington D.C.
Reaction to downtown protests
If you summed up Inauguration Day in Sacramento it would include a massive show of law enforcement and dozens of demonstrators.  A local Antifa organization organized the demonstrations on social media.  None of the participants spoke to ABC10.
The group marched all over downtown, catching the attention of people on the street who had a mixture of thoughts.
Jeanne McNeal was on her smoke break outside of her home on P Street. She said the protestors shouted many things but the message was unclear to her. 
"Guess they got to get it out, as long as it's peaceful and no one gets hurt and we go on and we come together," McNeal said.
Behind the demonstrators was a group of police officers on bicycles — a show of law enforcement that cyclist Matt Evens wanted no part of. 
"I think it's a waste of manpower, but I can understand it," Evans said.
After setting off a smoke bomb outside the state capitol, the group marched down 7th Street, taking up both lanes of traffic. 
The group, unfortunately, made Troy W. late for work. 
"I was telling them to hurry the hell up so I could get to work. These people are out of their mind," he said.
By 1:45 p.m. the demonstrators left, leaving the bike police with no one to lead them.
Sacramento Police report three incidents during the day
Sacramento Police tweeted a summary of events that happened during the day on Inauguration Day. They said there were only three incidents, including two traffic stops.
Police said that fencing near the intersection at 9th and G streets was pushed over, with no other damage. They also conducted two traffic stops. One vehicle tried confronting demonstrators as they marched and a person inside was cited for illegally possessing pepper spray. The other stop was of a vehicle that supposedly had "a box of Molotov cocktails," but after searching the vehicle, police say they found no devices.
Sacramento Police says that there will continue to be a heavy police presence throughout the night.
Demonstrators disperse, leaving law enforcement at Capitol
Demonstrators have all left the California State Capitol, according to ABC10 reporter Monica Coleman. The only people that appear to be left are law enforcement.
ABC10 reporter John Bartell said that one of the groups has already left and "they got in their cars and went home."
California Highway Patrol and the National Guard have both said they, and other law enforcement agencies, will remain on high alert for potential violence throughout the week.
Demonstrators leave the Capitol, continue to march across Sacramento
Sacramento Police say a group "has left the Capitol and continues to march. Rolling road closures in effect. No incidents have been reported."
In the most recent update from Sacramento Police, one of the groups made its way back to its original starting point, while the other is still marching near 7th and I streets. Still no incidents.
For more information on road closures and traffic updates, click HERE for the ABC10 traffic page.
Demonstrators make their way to the Capitol
Multiple groups who gathered at different parks across Sacramento made their way to the Capitol this afternoon. All the groups have various affiliations. Sacramento Police said on Twitter that there have been no incidents yet, but they are still standing guard and monitoring the groups.
Demonstrators gather across Sacramento on Inauguration Day
Groups with various affiliations gather at different parks across Sacramento as Joe Biden is inaugurated as President.
Inauguration Day Demonstrations in Sacramento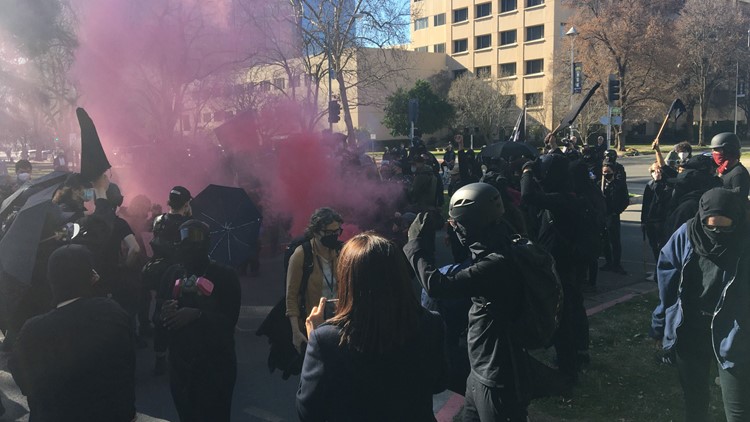 ABC10 reporter John Bartell is at J. Neely Johnson Park where people gathered, describing themselves as a group that "must stand firmly against white supremacy and fascism." The demonstrators are making their way down G Street in Sacramento and it's still unclear where they are going.
ABC10 reporter Kevin John is at Fremont Park in Sacramento, where about 20 people have gathered. Kevin said people seem to be wearing black and have "bats or sticks."
No active protests at State Capitol early Wednesday morning
Sacramento Police Department said that as of 9 a.m. on Wednesday morning, there are no active demonstrations at the California State Capitol. The update comes as President Joe Biden is sworn in as 46th President of the United States. 
Sacramento police and other law enforcement will continue to be a presence in the Capitol area.
ABC10 reporter Monica Coleman describes what it looks like at the Capitol.
San Joaquin County Sheriff's Office to deploy officers to Sacramento on Inauguration Day morning 
With Inauguration Day upon us and the potential for widespread protests across the country, the Sacramento Police Department has requested reinforcements to help guard the California State Capitol Building. 
Roughly a dozen San Joaquin County sheriff's deputies will head to the Capitol on Wednesday morning. 
"You'll see some of our deputies in uniform and you'll see some of our deputies just in plain clothes. You'll see some of our San Joaquin County Sheriff Officers in marked vehicles in the city of Sacramento and some you will not recognize because they will be unmarked," said San Joaquin County Sheriff's Office Spokesperson Alan Sanchez. 
California's Office of Emergency Services (Cal OES) said the National Guard will also stay in place at the Capitol until at least Wednesday but San Joaquin Officers may be in Sacramento longer.
WATCH MORE: Sacramento Police Chief talks Antifa, BLM, capitol protests, and inauguration preparation