Mordaunt clashes with rivals on trans issues in Tory leadership TV debate
4 min read
[ad_1]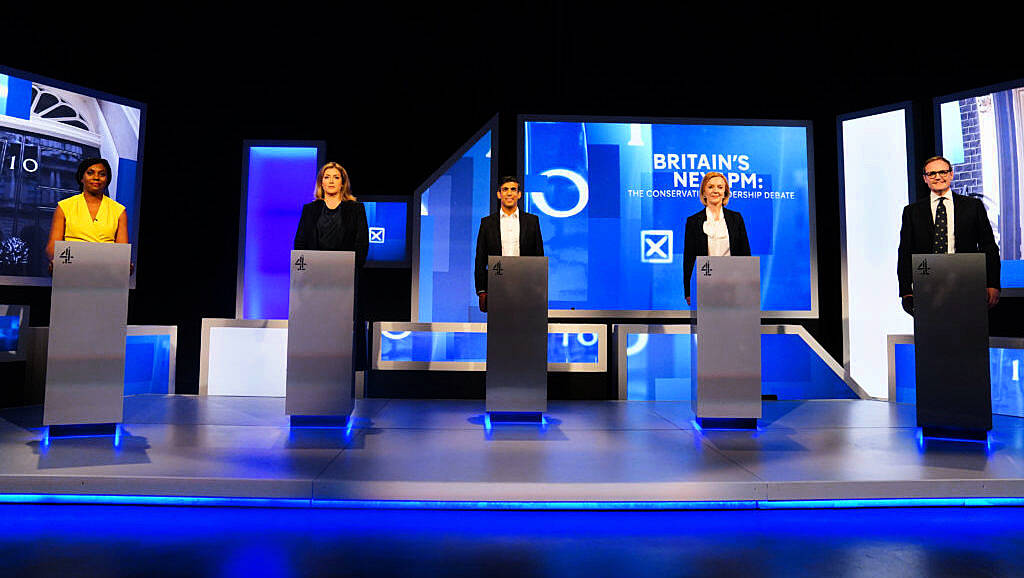 Penny Mordaunt has clashed with Tory leadership rivals Liz Truss and Kemi Badenoch as they challenged her history on trans problems in the to start with Tv debate of the contest.
Appearing right before a Channel 4 studio audience, Ms Truss and Ms Badenoch accused Ms Mordaunt of having backed self-identification when she experienced accountability for equalities troubles – a little something she strongly denied.
The global trade minister stated that while she experienced carried out a consultation of the Gender Recognition Act, she experienced by no means been in favour of self-ID.
"I just can't consider why individuals are not comprehending what I say and have been regurgitating this situation for weeks and months," she explained.
"I'm a girl, I'm a organic woman in each mobile in my physique," she mentioned, introducing that a male who experienced transitioned was "not the very same as me".
On the other hand, Ms Badenoch, the former equalities minister, stated she located her rival's account tricky to acknowledge.
"When I took more than equalities minister in 2020 what was being pushed was self-ID. I really don't recognize how that would have altered until anyone else did it. My understanding was the previous minister who experienced the part experienced preferred (Ms Mordaunt) self-ID," she said.
Ms Mordaunt retorted: "That is not suitable. This will all be on file."
On the other hand, Ms Truss, who also had obligation for equalities alongside her part as Overseas Secretary, explained there experienced been a plan to go forward on self-ID.
"I consider in women's legal rights I also believe that that transgender ought to be handled with respect, so I changed the outcome so we produced the programme more simple and kinder, but not shift in advance with self-ID," she said.
Previously, Ms Mordaunt explained the assaults showed that she was the candidate to conquer.
"I take it as a big unwanted fat compliment that nobody would like to operate against me," she mentioned.
There were being additional clashes above tax as former chancellor Rishi Sunak defended his history in the Treasury as he attacked Mr Mordaunt and Ms Truss in excess of their promised cuts.
Stressing the need to grip inflation, he reported: "We are unable to make it even worse, inflation is the enemy that makes every person poorer.
"I really don't think the responsible point to do correct now is start into some unfunded spree of borrowing and much more debt, that will just make inflation worse, it will make the trouble lengthier."
Ms Truss pinned the blame on the Financial institution of England, expressing "we have inflation because of our monetary coverage, that we have not been rough adequate on the financial provide, that is the way that I would tackle that issue".
Mr Sunak told her: "Borrowing your way out of inflation is not a approach, it's a fairytale."
Ms Truss responded: "I believe it is wrong to set taxes up."
The previous chancellor then turned on Ms Mordaunt immediately after she stated her financial platform was not dependent on "tax and spend" but on "growth and competition".
He said guarantees she had built to slice VAT on fuel and elevate earnings tax thresholds would value £15 billion.
"Even the pledges you've designed are double-digit billion pound claims," he informed her.
"The finest way to help anyone, the finest way to make absolutely sure that they have money in their pocket, is to get a grip of inflation, and that must be everybody's precedence since that is the thing which is going to erode everyone's dwelling standards."
Ms Mordaunt replied: "Two matters, Rishi, that you have not realised – that is, I know you know folks are heading to have to have a lot more support this autumn, but actually men and women have to have assistance now and you are going to have to do one thing on taxation.
"Next April we are heading to be one of the most uncompetitive nations in terms of our tax competitiveness. That simply cannot be allowed to materialize."
Previously, Tom Tugendhat sought to make a advantage of the point that he was the only applicant without ministerial practical experience.
"We require a split from the Johnson yrs. That is why I am below. We have to have to make positive we can have faith in our politicians," he stated.
He drew applause from the audience when – by yourself among the the candidates – he answered the issue was Boris Johnson an "honest man" with the single phrase remedy "No".
[ad_2]

Supply url